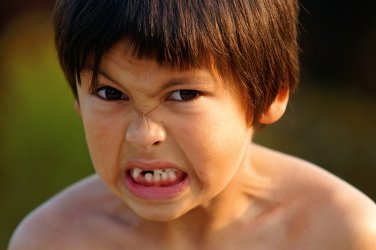 I want to tell a story. It's one that was very pivotal in changing my parenting paradigm and one that has brought me closer to my kids and to myself– closer and more connected than I ever thought possible.
It used to be that when my kids had any kind of negative emotion, I felt as though I had to fix it. As fast as possible! That's what good mom's do, right? I might attempt to:
Change his feelings of anger into feelings of friendliness.
 Change his sad feelings to feelings of happiness.
 Change his feelings of frustration into feelings of success.
In any case, the focus was on changing and fixing. Just like putting a band-aid on a cut, I wanted a band-aid for scary emotions. It was entrenched in the fear that if my child is unhappy, I'm doing it all wrong. I was trying to handle the negativity in my child from an equally negative emotion: fear.
When my two boys were younger, the oldest acted out of anger towards his little brother a lot. He would even hit him, call him names and generally belittle him at every turn. I was so alarmed by this. I mean, I wanted a connected family – one in which we all loved each other and enjoyed spending time together. How was it possible that my older son had so much anger towards his own flesh and blood? What was I doing wrong?
At first, I dealt with this by just trying to make it stop! "Don't hit your brother!" I might yell. "Go to your room if you choose to act like that!" was another. "He's younger than you! Have a little patience." I tried taking his beloved items away, putting him in time outs, talking to him about "good" behavior. Nothing seemed to help. The more I tried to make it stop, the angrier he seemed to become.
At this time in our lives I was deeply immersed in self-examination. I was learning about my own trigger points and what outer circumstances seemed to activate my own feelings of anger and other negative emotions. Observing the ways in which I dealt with anger within myself was key to learning how to help my child move through his own.
I began observing how triggered I became when my oldest son was "acting out" with his little brother. His behavior was triggering the anger that lived within me and I was then acting from my own anger by reacting to my older son. I examined this further and realized that sending him to his room and taking his stuff away was just a reaction from my own fear ~ the fear of anger.
Why was I afraid of anger? Anger was just an emotion, not a real thing you could touch or hold. I examined times from when I was a child and remembered incidents where I was the recipient of someone else's anger. I saw how scary that was and why I had become so afraid of it. It dawned on me that it wasn't anger I was afraid of but the REACTIONS triggered from anger that scared me to death.
If I was reacting from my own angry feelings by punishing and yelling, then my son must be reacting to his anger by hitting and terrorizing his little brother.
I got to thinking. What if we weren't afraid of anger? Would we even need to react to it if we weren't afraid of it? What if the feeling of anger was a message, from our inner self, trying to tell us something about our world or something about our needs? Would anger be scary then? What if we could make friends with our anger? How in the world could we do that?
And this is where my pivotal story begins… I started taking my older son out on "special days." On these days I turned off my phone and took him any place he wanted to go (within reason of course). The goal was for us to just have fun together. I vowed to be fully present. No distractions from little brother or email or phone calls. I turned off my phone and put my focus on my son.
Many times we went bowling, putt-putt golfing or for a picnic in a park. It was a time for me to BE with him. It was also a time for me to observe myself; my thoughts, feelings and triggers.
On these special days, my son would sometimes start talking negatively about his little brother. At first, I noticed myself trying to change his mind. "But look at the good things about him." I would say. "He's not so bad. Remember when he helped you clean up that mess?" I watched as my older son withered when I said these things and it wouldn't be long before he was ready to go home. He would shut down again. I felt at a loss.
Since one my goals on these outings was to observe myself and my own inner workings, I realized that by countering his negative feelings towards his younger brother with good thoughts, I was trying to change his mind again. I wasn't doing it by punishing but I WAS doing it by not LISTENING.
I heard what he was saying with my ears but not with my heart. My listening was not validating how he felt. My responses were undermining his feelings. I realized it didn't matter whether my son's statements about his little brother were true or not, he just needed me to acknowledge how he FELT.
I asked myself, How would you feel if you were angry about something and were telling a friend about it and she was defending the other side? Would you want to continue telling her things?
Sometimes it feels good to verbalize our feelings. It helps us get to the other side of things; To hash out. To release. To move towards love, understanding and compassion.
So my son wasn't asking for solutions. He needed someone to witness these strong emotions, in particular his anger that was triggering destructive responses. He needed a safe environment, where he could express how he was feeling.
When we went out again I was set. And my son complained about his younger brother again. I won't go into the ins and outs of our conversation, however my responses were much different than before. They went something like this:
Yes, little brothers can be such a pain, can't they?
 I get it! It's hard to be the older brother.
 I understand why you would feel like hurting your brother when that happened.
 My gosh! I'm sure that is so annoying to deal with!
 As my son talked, I kept reminding myself:
Don't fix, just observe.
Don't change, just love.
The anger is not bad; it's just an emotion.
His frustration came flooding out. He was angry with me too. For "never" listening to him. For "never ever" paying attention to what he needed. He cried and cried. I kept listening and validating. It was a scary moment and one that I was afraid was a never-ending supply of negativity. It was great practice for witnessing an emotion and staying with it without judging it.
I apologized. I kept loving eye contact. I didn't defend his little brother and I didn't defend myself. I sat openly with this child who was in so much pain and felt so unheard. I had compassion and empathy. I'd felt all of these things before too. I shared some of those times with him. To witness the emotion in him without judging it or being triggered myself was magical.
Eventually, what I thought would be a never-ending flow of complaints gave rise to a smile. My son was calm. Spent. He told me he loved me so much. And then, something I never expected happened.
He shared some good things about his brother. He talked about some of their good times together. As we continued to talk he said, "I'm a quiet kid, Mom. And my brother is loud and outgoing." He looked me in the eye and continued, "We're just so different and sometimes I just need time away from him."
The light came on for me. He was sharing his NEEDS. The two boys shared a room and my oldest needed a place to be alone.
So we talked about how we could make that happen. Together, we made a plan. We worked out a way for the boys to have their own rooms. We agreed that their rooms were their private spaces and that they could go there any time they felt they needed time to themselves. We agreed to honor each other's privacy. My oldest son agreed to go there when the angry feelings came, and to talk to me whenever he needed help navigating those emotions.
When we went home, he was excited to see his brother. He was happy again. They played Lego and the oldest helped the younger boy. He was compassionate and understanding, even when his little brother broke his Lego masterpiece on accident!
From that day on, my son felt like he could talk to me. He felt that his feelings were safe with me – good or bad. We were partners and I was no longer afraid of his anger. He didn't need to REACT to anger anymore because he was learning to witness the anger and with my help figure out what need was not being met. Then he could willingly release the strong emotion.
It's so easy to allow the emotions of others (including our kids) to trigger something in us that makes us want it to STOP. We want a quick fix. Our society tends to think that consequences are in order when a child is acting out. But does that work? Or does it make an already angry child angrier? If we punish or shut the anger down in some way, does it make the anger go away? Or does in burrow inside of the child (or inside of us) to fester and grow?
Perhaps our emotions, including the negative emotions, are a gift. Maybe they arise in an effort to help us become clearer about our preferences and needs. It could be that when we witness our emotions, without judging them, we come to clarity. Possibly it is better to witness these emotions with love rather than shut them down. It could be the key to more peace in our own lives and in the world.
All negative emotions come from a place of fear. Upon close examination, it's always a fear of our needs not being met in some way or another. Meandering our way down to the core of the issue gives us choices and power.
When a child is angry, he or she needs love. The child needs someone who is not triggered by his outburst. It's hard for an adult to do this if they are triggered themselves. If we are afraid of anger or if we want the anger (or sadness or any other challenging emotion) to stop immediately, we forego the gift that the emotion is offering.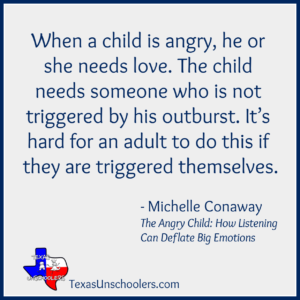 As we look at the emotion objectively, as an observer, we open up a world of true possibility, not only for our children, but for ourselves as well. Our needs can then be met from a neutral place and anger is not a necessary vehicle through which we express our needs.
Here are 7 tips that I follow when faced with big emotions in my kids. Perhaps they will work for you too.
Bite my tongue and don't react. – I try to remember that the anger (or sadness or other negative emotion) is NOT my child. Notice the anger (or worry or fear) that comes up in ME when my child is angry and acting out. I pay attention to that and investigate my own emotions but don't react to my child's emotion. (of course if my child is acting out by hitting or destructive behavior, I deal with that in the moment, but don't shame or punish the emotion).
Look at my child with compassion.  This take practice but looking my child in the eyes with love – seeing the hurt he is feeling underneath the angry emotions – connects me to who my child really is. I become less reactive and it allows me to sink into the next steps.
LISTEN. – When the time is right, I LISTEN but don't try to change the emotion. I try to listen like my best friend would listen to me when I need support.
VALIDATE – For example, "Yes, I can see why that would make you mad.", "Wow, I can see what that would make you want to hit your brother." No words are off limits. This allows the emotion to come out in constructive ways. There is relief when we can vent. Let the tears come and don't try to make the anger/sadness go away. I try to let if flow out of them. I get to be the witness. I get to be the non-reactor.
LOVE – I love them right where they are. They are NOT this strong emotion. They are beautiful beings have a very human experience. Zero in on the beauty of that child – beneath all of that big emotion.
TRUST – I trust (and by this time know) that the emotion will pass. I give this lots of time. It may take a few times of being with my child before all of the anger has dispersed. When it does pass, I don't immediately offer solutions. Instead, I ask questions. "How can we make this better for you?" "What steps can we take to meet those needs?" This helps get to the core of the issue.
Take  steps to meet the need. If my child needs alone time, I make that happen. If they need a space to go to when they are feeling overwhelmed, I help them with that. I try to get creative and PARTNER with my child to create an environment in which he can thrive. This builds trust in our relationship and helps my child know how to handle BIG emotions constructively.
REPEAT. This one is tough. It requires us to be willing to BE with those same emotions over and over again. But repeating these steps helps our children to trust that we will walk with them through strong emotions without fear or reactivity on our part. It not only helps them to feel safe but also eventually helps them to recognize strong emotions as they come up and they learn to handle them more effectively, even when we're not there to help.
Meet Michelle & our other contributors here.