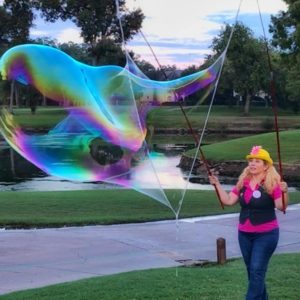 We're excited to announced that Texas Bubblers will be a featured performer at the 2020 Texas Unschoolers Conference.
The Texas Bubblers love to make the world smile with something so simple as a bubble.  Bubbles do something good to the heart of every person who sees them. For the very young, they are in awe and it is pure enjoyment and excitement. For the young at heart, it is a moment of a sweet childhood memory, and many adults become child-like again and start playing with bubbles.
Join Texas Bubblers for Giant Magical Bubble Play.  Giant Bubbles created by Shelly & Bubba McBubbles using their wands that are between 4-10 feet long to create jellyfish bubbles, giant bubbles, monster bubbles, the crowd favorite the bubble cloud, and Texas "snow".
Texas Bubblers on Facebook
Videos of Texas Bubblers