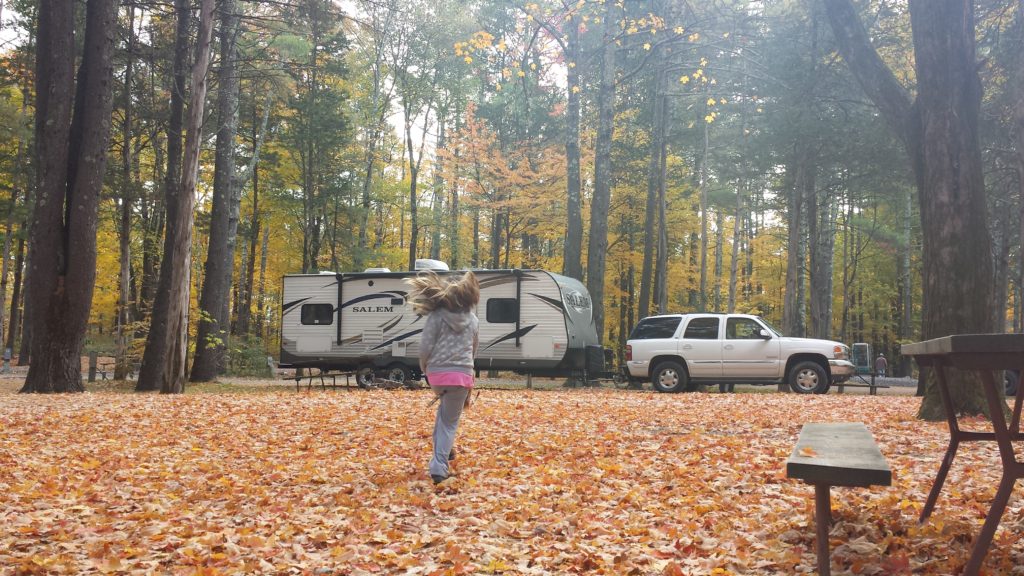 So you have decided not to send your child to school — not because of illness or trouble or family obligation or whatever. Rather, you decided not to send your child to school, because you wanted to do something else instead of it. You wanted to realize what might happen if your child grew and learned in a free environment, in his or her own unique way, on his or her own time. You actually turn your back on school — the system of education — and walk away with your child's hand in yours and go forth into a completely open realm of endless possibilities of learning, because you can, and you want to see it come to fruition, understanding that it will. You decide that faith and trust and love and respect are enough ingredients for the process to work. You let go of the reins and move out of the way, exhaling all the while as the socially-created pressures of conformity, regiment and expectation melt away from you, making space for a different kind of relationship between you and your child, your child and the family, and the relationship that the child has with the Self.
That is unschooling.
But it isn't about school anyway, it's about the child and family first. It is a new road, a new approach. So what would you do if the hours were yours for the unpacking? How would you lead your life? What would your days look like? What might be the things of interest to your child that would last until he or she feels full? What would you like to expose your child to seeing or doing now that your calendar is free? Would you and your child stay home, make play dates, go to museums, go fishing, knit, mold clay, bake cookies, play tennis, draw, watch movies, read, build something, learn a language, learn to weld or, perhaps, do "nothing?" Just hang and be? Relax? Tune out? Sleep in? All of the above? It is fun to consider for sure, being immersed in the things that bring you and your child joy, maybe even finding out something completely unexpected.
That is also unschooling.
Our daughter has never been to school, so essentially she always has been an unschooler, going with the flow of what comes naturally to a child — play, learning and discovery. As she grew up, we did things in our hometown and surrounding areas, occasionally going out of town for a bigger scene. We looked for people and groups that do what we do, but we weren't always successful. Often, Midwest winter weather created hinderances to gathering, and our rural setting created distance. Eventually, we yearned for more as a family. We wanted to go out in the world.
Now, at the wonderful age of seven, our daughter is a full time traveler. For us, this is unschooling.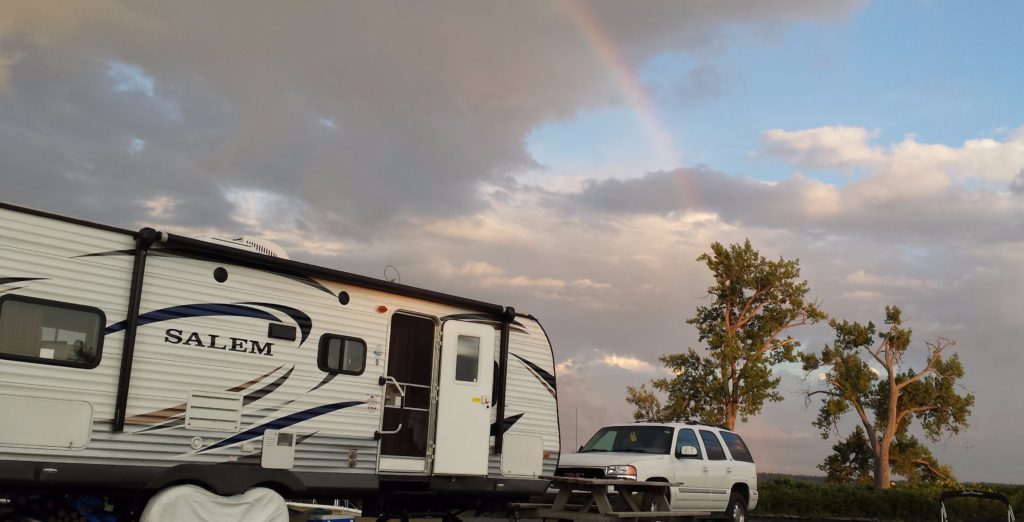 During the years before having her, my husband and I traveled often, able to pack a small carry-on and fly off somewhere at a moment's notice. We traveled to Spain and Mexico, Hawaii and Las Vegas. We'd meet friends or family wherever, whenever. But after we had our daughter, we traveled rarely. When we did, the small carry-on became a suitcase full of baby stuff, then kid stuff, and it wasn't as much fun. In fact, is was work. Like most parents, I was exhausted. Furthermore, having a home and stuff kept us tied to one place, limiting our ability to travel. We missed traveling for pleasure, we missed traveling as lifestyle, and we no longer wanted to be obligated to our things. We wanted to honor experiences, so we decided to do something about it — this time, with kid in tow.
We sold all of our stuff, bought a travel trailer and decided to meander this giant country that is the United States until we've had our fill, and then we will head abroad. Because we work for ourselves and we are an unschooling family, we can travel freely, where time and the road are ours and being together is a priority.
Most of the unschoolers/homeschoolers we know stay in once place, because they are tied to job or committed to their communities. It is wonderful to feel rooted and part of something, and we like to meet folks like us in various places across the country living in this way. It's a great way to become familiar with a region and see how other families live out their lives of doing things more naturally. But we feel that, given the opportunity, traveling as an unschooling family creates amazing bonding experiences and a world view unlike anything we have ever known. Freedom and experience make for a heart-pounding elixir.
Through travel, our daughter has an open mind about the next adventure — the next playground, the next zoo, the next hike, new people. She used to lament that she didn't want to leave this or that campground or playground, but now she knows that we will find something new and/or unique somewhere else. Amazingly, she doesn't want to go back to where we have been; she wants to continue going forward. She lives in the moment, which is a such a great aspect of unschooling, and is reinforced through travel.
We have experienced more intellectual conversations with our daughter since we have traveled; she is more mature and aware of the world. Although she sees other kids at campgrounds, she integrates on her time, because she enjoys hanging out with people of various ages or with us or by herself. She ponders what she wants to do, because she can. She is starting to be more self-serving regarding her activities, taking initiatives on creative projects, because she knows there are no time constraints. Her schedule is open. So much of this is true for unschooling families in community settings in a brick-and-mortar home. In fact, it is likely the way of life for most unschoolers. But traveling adds a few more layers to the experiences of the unschooling family, and we continue to witness it firsthand.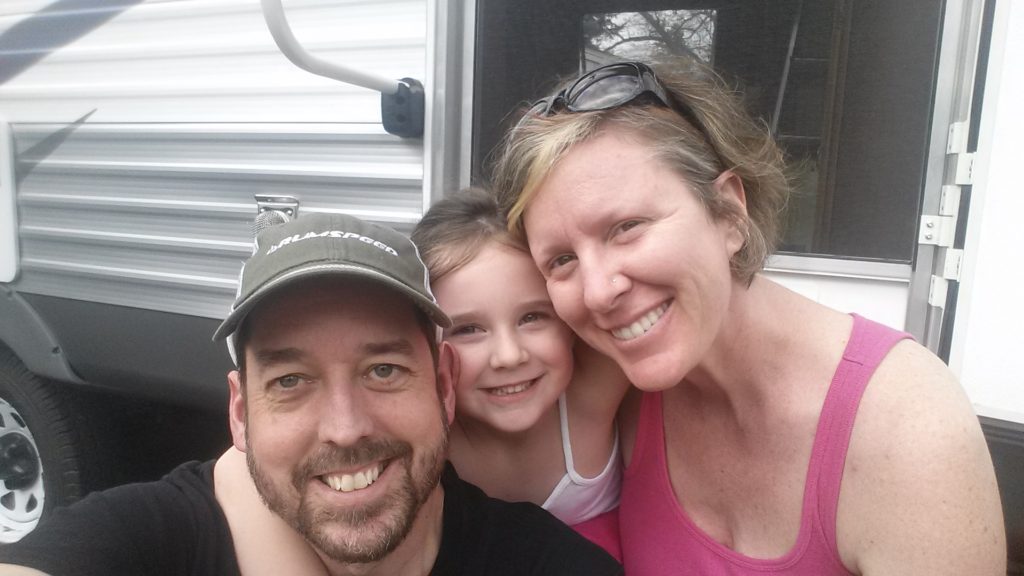 There is no doubt that unschooling found us and it is a path that we chose. It is also something that we strongly advocate now. Add the layer of travel and the unschooling world opens up to you that much more. If you are able to travel as a family, do it. Do it often. It is a wonderful, exciting, grounding, freeing experience to see the world with an unschooling lens. We know that this family is invested indefinitely. Hopefully, we'll see you on the road!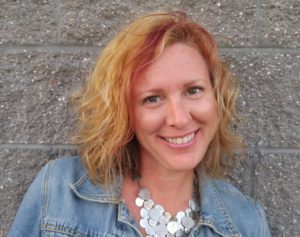 Liza likes to do a lot of things. Currently, she really likes to travel, write, read, swim, practice yoga and meditation and cook. She dreams of Spain and quiet places. She loves spending so much time with her family. And she believes in life, liberty and the pursuit of happiness.