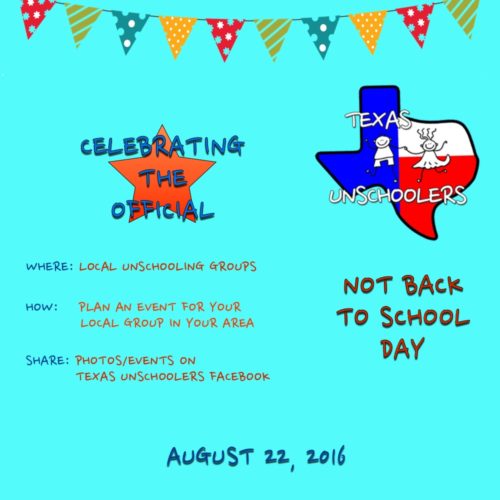 A  press release went out today about our upcoming NOT Back to School Day – a day in which we celebrate the freedom to Unschool in the state of Texas.
While millions of Texas children return to school on August 22, almost half a million are Not going Back to School and we look forward to making this a day of celebration for Unschooling families across the state!
If you plan something for Not Back To School Day, please feel free to share photos and comments about how you spent your day at our Facebook Group. It would be fun to see what everyone's up to on Not Back To School Day!
PRESS RELEASE:
July 19, 2016–Fort Worth, Texas — While many parents are preparing for the state mandated first day of school, homeschooling and unschooling parents are enjoying plenty of quality time with their kids. With almost half a million children being homeschooled in Texas alone, there is a growing trend to forego the traditional preparation for the first day of school in favor of celebrating our freedom to homeschool by gathering together to encourage each other in our home school journey.
Texas Home Educators, Texas Unschoolers and Family Catholic Educators are celebrating the freedom of homeschooling, by encouraging local homeschooling and unschooling groups across the state of Texas to plan fun local activities on August 22, 2016, the official "Back To School Day" for Texas public school students as an official "NOT Back to School Day".
Speaking for Texas Unschoolers, Michelle Conaway stated: " I am excited to partner with Texas Home Education Support Groups in celebrating an official "Not Back To School Day" each year. We hope to encourage our local homeschooling and unschooling groups across the state to mark August 22 on their calendars as the official "Not Back To School Day" and celebrate by hosting various events for their local unschooling communities. We will be posting pictures on our Texas Unschoolers Facebook group of various "Not Back To School" events and welcome all photos and posts celebrating the joy of Homeschooling in Texas."
Ellie Andrew, chairman of Catholic Family Educators, said, "Our children learn all the time. They don't need to go to a place called `a school,' to be taught by someone called `a teacher,' in order to learn. Not Back to School Day reminds us of why we are homeschooling."
Our hope is that each year homeschoolers across the state will celebrate "NOT Back To School Day" by hosting fun activities for homeschoolers in their areas as a celebration of home education in Texas.