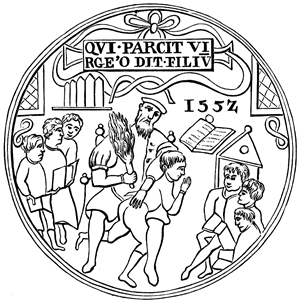 Most of us grew up in the public school system, and so naturally our frame of reference may be limited to this particular model of education. It's easy to conclude that since we did it this way, and most everyone around us does it this way, then it must be the best way.
From such a limited viewpoint many people may see unschooling (natural, child-led learning) as a radical experiment: something new, unproven, maybe even a little crazy. But when we take a broader view of history and look at how humans have lived and learned and thrived over many centuries, we can see that compulsory public schooling is actually the "new" experiment—an experiment whose results are rightly being called into question by many people today.
In 2008 Peter Gray*, research professor of psychology at Boston College, published an instructive article titled "A Brief History of Education" where he lays out how public schools came about, how we got to where we are today, and some of the motivations behind the expansion of the public school system. (Hint: the motivations were rarely about the healthy development and well-being of children.)
Dr Gray's article is really good, I encourage you to read it. Here are a few excerpts:
If we want to understand why standard schools are what they are, we have to abandon the idea that they are products of logical necessity or scientific insight. They are, instead, products of history. Schooling, as it exists today, only makes sense if we view it from a historical perspective.

In the beginning, for hundreds of thousands of years, children educated themselves through self-directed play and exploration.

For various reasons, some religious and some secular, the idea of universal, compulsory education arose and gradually spread. Education was understood as inculcation. […] The only known method of inculcation, then as well as now, is forced repetition and testing for memory of what was repeated.

Employers in industry saw schooling as a way to create better workers. To them, the most crucial lessons were punctuality, following directions, tolerance for long hours of tedious work, and a minimal ability to read and write.

Everyone assumed that to make children learn in school the children's willfulness would have to be beaten out of them. Punishments of all sorts were understood as intrinsic to the educational process. In some schools children were permitted certain periods of play (recess), to allow them to let off steam; but play was not considered to be a vehicle of learning. In the classroom, play was the enemy of learning.
Read the full article here:
www.psychologytoday.com/blog/freedom-learn/200808/brief-history-education
-Stacy
Meet Stacy & our other contributors here. 
---
* Peter Gray, PhD researches and publishes on how children learn, with a specific focus on the role of play in the learning and development process. He spoke at the 2015 Texas Unschoolers conference. A video of that talk, called The Biology of Education, can be seen below.
Peter Gray: The Biology of Education
TEDx video: The Decline of Play, by Peter Gray
Peter Gray's 2014 talk at TEDxNavesink