TEXAS UNSCHOOLERS CONFERENCE
April 7-11, 2016
HILL COUNTRY COTTAGE & RV RESORT — NEW BRAUNFELS, TEXAS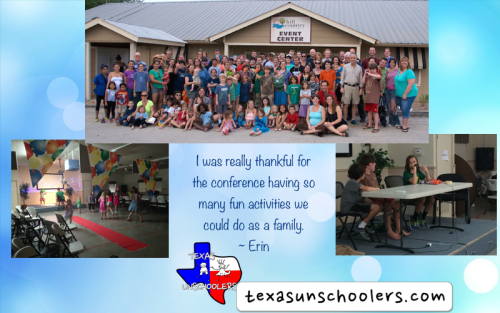 Our third annual TexUns Conference was again held in the beautiful rolling hills of New Braunfels, Texas.
There's something for everyone at the TexUns conference. Check back on the website for updates on the 2017 conference dates and early registration. For a glimpse of past conferences, see our videos from 2014 and 2015.
Here is a sampling of the 2016 TexUns Conference offerings:
Arts & Crafts
Gaming
Cartwheel Workshop
Teen Activities (Pool Party & Late Night Teen Party)
Hunger Games
Egg Toss
Face Painting
Primping Time & Fashion Show
Talent Show
Nerf Wars
Market Days
Pot Lucks
Texas Sized Cook Out
Free Pancake Breakfast and Family Introductions
Q&A Sessions
Karaoke (New This Year!)
Scavenger Hunt
Volleyball Meetups
Jumping Pads
Indoor and Outdoor swimming
Work Out room
And MORE!!!
Hope to see you at the Fourth Annual Texas Unschoolers Conference in 2017!
Here's what one family had to say about the Texas Unschoolers Conference: