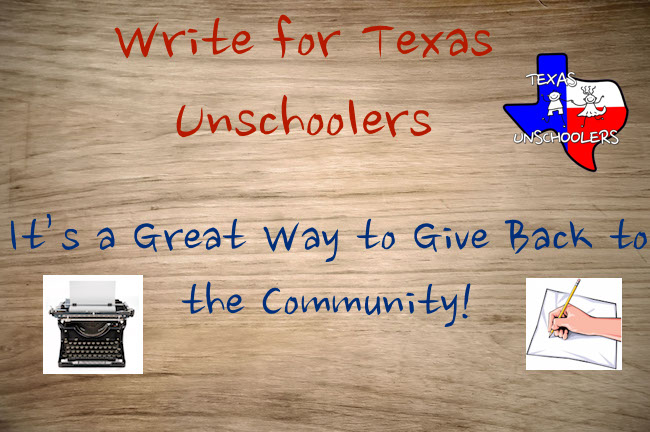 If you like to write and would like to contribute to the many families who visit this site daily, please consider writing about one of the suggested topics and submitting it to Texas Unschoolers. New writers and new unschoolers are welcome and encouraged to submit!
We are looking for articles that talk about learning outside of the box. References from your own life are encouraged and welcomed. Here are a few topics we are looking for, but if you have a different idea, please feel free to contact us and we'll discuss it.
Topics to Choose From
How to fulfill the Texas Legal Requirements of Reading, Writing, Spelling, Math and/or Good Citizenship through unschooling.
Unschooling Teens
How  Gaming and Technology enhance the learning experience
Unschooling Conference Reviews in Texas and bordering states
Unschooling Book Reviews
Transitioning to Unschooling from other Education Models
Grown Unschoolers
College Resources for Unschoolers
Unschooling from Birth
Food Freedom
Screen Freedom
Sleep Freedom
Radical Unschooling
Unschooling Travel
How you came to Unschooling
Field Trips in Texas (Particularly for San Antonio, Dallas /Ft. Worth & Austin)
Contact us with your ideas!
We don't have many guidelines but here are a few:
Posts can be anywhere from 500 – 1,200 words (Please be concise with words and edit before submitting)
Please send a short bio and bio picture. You can add up to three links to your website, Facebook Page and/or Twitter
If you have images you would like embedded into the post, please send those with your submission. If not, we'll provide some for your post.
Send all submissions to michelle@texasunschoolers.com. You can send a link to the file but you must have the following words written in the Subject Line to be considered – TexUns Writing Submission.
We can't pay for articles quite yet, but you are free to promote your group, website and/or other articles in the bio section.
After you submit, we will get back to you as soon as possible. If accepted, you will be notified of any questions we may have and be given the proposed publish date.
Thank you! We look forward to reading your submission.