2020 TexUns Conference Activities
April 16-20, 2020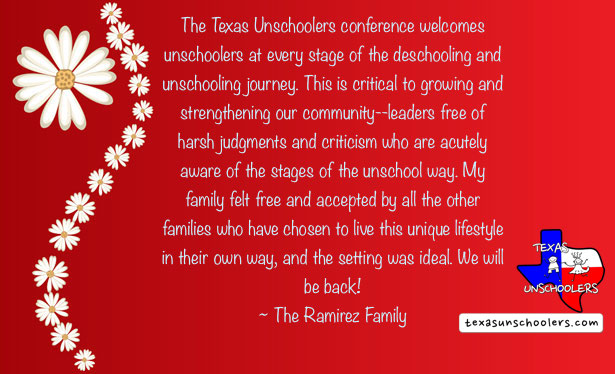 We are so excited about the activities and get togethers we are planning  for the 2020 Texas Unschoolers Conference. Here is an idea of just some of the events that will be on our schedule. Be sure to check back often as we will be editing this list as new things pop up:
Organized Coffee and Lunch Chats with experienced unschooling parents
Round Table Discussions
Speaker Talks
Grown Unschooler's Round Table – Ask them anything!
Nerf Gun Wars
Teen Football Game
Grown/Teen Unschooling Panel and Q&A
 Hula Hoop FunShop
Learn to make a Firestarter FunShop
Learn to build a Campfire Funshop
Baking FunShop – make goodies for our potluck gathering
Family Miniature Golf Tournament
Talent Show
Fashion Show
Family Pot Luck Dinner
Teen Pool Party including  Pine Tree Plunge Race
Family Pizza Party at the Pool
Group Campfire and cookout
Sewing FunShop – Make a pillowcase
Market Days – Sell your wares, art or craft
Family Pool Meetup
Fishing at the Pond Meetup
Unschooling Dad's Discussion
Movie Night Double Feature – Two featured Unschooling Movies will be presented on the big outdoor screen
Facepainting
Big Water Slides open all day Friday, Saturday and Sunday for our event
Craft Room available All Day Every Day (with a cute little play area for littles)
Informal get togethers
And Much More to come!! Keep checking back.