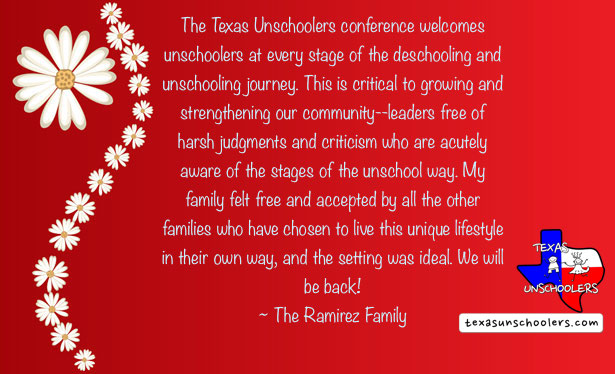 Please find below links and more information about activities and events you will find on the 2017 Texas Unschoolers Gathering schedule.
Should any of the events be changed, canceled or rescheduled while at the conference, we will post notices to the 2017 Conference Facebook group.
Every Day Events (Friday, Saturday & Sunday)
CRAFT/DIY TABLE
The craft table will be set up for the duration of the conference as a self directed activity. Use your own creativity or we will have several ideas and instructions available using the supplies on hand. Be sure to label your work with your name. We will try to set up a display area for those that want to share their work with others.
GAME ROOM AND BOARD GAMES
Bring your quarters and enjoy the game room sporting pool tables, ping pong, shuffleboard, Wii, Playstation and more. Or, bring your board games and grab a friend for a fun filled day of old fashion board game playing.
Free wifi is available for gamers  in the Great Lodge however we can't guarantee how good the connection will be. We will bring in extra wifi. Gamers are welcome to meet up and play computer games day and night in the Great Lodge. Please download games and movies BEFORE coming to the conference. Downloading slows down the wifi.
GREAT LODGE HANGOUT ALL DAY
Need something to do? Want to meet other families? Come to the Great Lodge all day to sit in the comfy chairs and relax while chatting with other unschooling families. Bring your board games and play with others. Join in a game of Minecraft on your laptop. Do a craft with your kids. Or bring your lunch and share conversation with others as you watch the kids play at the pool. There's sure to be something going on all day in the Great Lodge.
Outdoor Areas
There is a jumping pad where you can do relay races, a jumping pillow, aeroball, a playground, two indoor pools, a workout room, an outdoor pool and lots of room to run and roam.
For those NOT staying at the Resort: If you would like to participate in any of the resort amenities, you will need to buy a pass for each of your family members at the front desk. Passes are $5 per person per day. For those staying at the resort, resort amenities are included with your cabin/RV site.
SPONTANEOUS OUTDOOR GAMES
Nerf Guns, foam swords, balls, bikes or hoola hoops are all welcome. Meet others outside for spontaneous outdoor fun! (Please NO Hover Boards. The resort does not allow the use of Hover Boards on Resort property.)
THURSDAY EVENING
Check-In With Texas Unschoolers (6:30 to 7:30 pm)
Come and check in on Thursday evening to receive your TexUns Gathering bracelets. Bracelets should be worn during all activities of the gathering to identify yourself as a TexUns participant. If you come late, please check in at the front desk and ask for the envelope with your bracelets in them.
Snack-Luck, Jelly Belly Schmelly Show and Q&A
At 7:30 p.m. bring a snack to share to the Event Center. You don't have to cook anything for this event. Chips/Dip, cheese/meat/veggie trays, bowls of cut up fruit and desserts would all be fine. Bring your own drinks as well. And don't forget the disposables! (Paper plates, cups, plastic forks/knives/spoons, cups, napkins – enough for your own family) Bring your kids and let them participate in the opening act of the Jelly Belly Schmelly Show, starting at 7:30 during the Snack-Luck.
Then at 8:30, join the circle as Michelle Conaway, Amy Smith and Rachel Miller get the gathering rolling with an Unschooling Q& A Session.
Friday Events
POT LUCK BREAKFAST AND INTRODUCTIONS
If you'd like to prepare an introduction for your family, please feel free to do so. We will be asking people to come to the microphone and introduce their family to the group during our pancake breakfast. If you'd rather have someone else read your introduction, please write it out and submit it to Michelle Conaway via the contact form.
Bring a breakfast item enough to feed your family and to share with a few others. Items can include scrambled eggs, bacon, sausage, cinnamon rolls, muffins, breakfast casseroles, donuts, fruit, cheese, Orange Juice, Apple Juice, Milk or anything else you would like to bring. Please remember to bring paper plates and forks/spoons, cups and napkins as well. No disposables will be provided.
Looking forward to meeting everyone and hearing your family introductions!
THE JELLY BELLY SCHMELLY SHOW
Come watch Jelly Belly Schmelly on stage in the Event Center immediately following the pot luck breakfast. This show will be geared towards the littles, however it will be enjoyable to all!
BAKING FUNSHOP
Come to the Event Center and help Amy Smith and Chris Simon bake goodies for the Saturday potluck! All ingredients are provided.
GETTING STARTED WITH UNSCHOOLING: SUE PATTERSON
Join veteran unschooling mom, Sue in the Great Lodge for a cozy discussion about getting started on the unschooling path.
LUNCH CHAT WITH MICHELLE CONAWAY
Bring your lunch and chat with Michelle about the unschooling lifestyle.
FAMILY POOL MEETUP
Grab your floats and come on down to the outdoor pool for a swim and some unschooling socializing.
MATH AND UNSCHOOLING Q & A SESSION
Ever heard someone say, " We unschool except for math."? If so, come to this round table discussion with Eric Smith. He will ease your fears about math and how your kids learn math by living everyday life.
NERF WARS MEETUP (FREESTYLE)
Kids (and parents too!) bring your nerf guns or foam swords to play nerf with your fellow unschoolers. This is a freestyle event. Make up your own rules or organize a game with your fellow players.
HAPPY HOUR
Bring your own drinks and/or snacks and join us in the Event Center for our Happy Hour Social.
GROUP PHOTO
Gather around and well get our annual TexUns photo taken as a group! The photo will be used on our website and social media.
TALENT SHOW
The talent show is for everyone young and old alike! Be thinking about what you would like to do for the talent show. Sign up sheets will be available at the check in Thursday night.
Bring your music (if needed) to the talent show as an mp3 and we will hook it up to our sound system when it's your time to shine!
Please try and limit your talent to 5 minutes or less so that we can be sure to get all of our talents on stage.
SATURDAY EVENTS
COFFEE CHAT WITH MICHELLE: LET'S TALK ABOUT SELF CARE
Let's talk about the unschooling life and the importance of self care, how that empowers our children and how we can make time for it.
TALK: NOMADIC UNSCHOOLING
Join Christy and Steve in a discussion about unschooling and travel and how unschooling has worked for their family.
LUNCH CHAT WITH RACHEL MILLER
Bring your lunch and chat with Rachel about the unschooling lifestyle.
WORKSHOP: CREATING A SUCCESSFUL YOUTUBE CHANNEL
Join Michelle Anderson for a free workshop on how to build a successful YouTube Channel. It's sure to be full of great ideas and creative twists!
DAD'S UNSCHOOLING DISCUSSION GROUP
Join Stacy Conaway, Eric Smith and other unschooling dads to discuss unschooling from a Dad's perspective. Beer included.
COSPLAY: DIY FURRY EARS
Join Dodo for a fun cosplay event. Dodo the Unicorn Wolf Dog will teach you how to make cute furry ears that you can wear around for the rest of the gathering. All supplies included and you get to leave with your own furry ears!
HAPPY HOUR
Bring your own drinks and/or snacks and join us in the Event Center for our Happy Hour Social.
FASHION SHOW
Show off your high style at our fashion show before the sock hop! Walk down the red carpet and show off your unique selves! No fancy costumes required. Everyone can join in. (PARENTS: PLEASE HAVE YOUR CHILD DRESSED AND PRIMPED AND READY TO GO BEFORE SHOWTIME.)
POT LUCK DINNER
Let's all eat together and share the foods we love. Bring a dish, plus disposables (enough for your family). Feel free to bring your dish to the fashion show. We'll have big refrigerators that we can store food in until time for the potluck. Don't forget your drinks and forks!
DIY FACE PAINTING
Bring and friend or meet new ones at the DIY Face Painting table in the Event Center. We'll provide the paints! You provide the creativity!
HOT TUB MEETUP AND CHAT
Bring a drink (no glass containers please) to the hot tub near the outdoor pool for some relaxation and unschooling chat time.
TEEN/TWEEN LOCK-IN (Ages 10 and up)
Join your fellow unschooled tween/teen friends for a late night of fun and games including the following and lots more!
(NOTE: Parents & Teen/Tween must sign the release/agreement form in order for the teen/tween to attend.)
MARIO CART CHALLENGE: Are you ready for a challenge? Bring your driving skills and sign up to enter the Mario Cart Challenge. 3 Top players will win a prize.
RAFFLE: Get your free ticket at the door to win a prize!
GAMING: Bring your laptops for community gaming such as Minecraft Hunger Games, League of Legends and other fun computer games. (Please download the games you want to play prior to the gathering so that we can preserve bandwidth)
TWISTER: Join your friends in a tangling fun game of Twister.
BEAN BOOZLED: Bean boozed challenges all night long.
WHITE ELEPHANT GAME:  Bring an inexpensive trinket or something from your closet for this fun game of trading (and sometimes stealing!)
SNACKS, DRINKS AND PRIZES PROVIDED!
SUNDAY EVENTS
COFFEE CHAT WITH AMY: UNSCHOOLING WITH LITTLES
It's never too early to start unschooling. Come chat with Amy about the joys of early unschooling or unschooling littles alongside older kids.
PHOTO OP AND VISIT WITH DODO – THE UNICORN WOLF DOG
Bring your camera and take a picture and hang out with Dodo the Unicorn Wolf Dog.
ROUND TABLE DISCUSSION: MICHELLE AND STACY CONAWAY: RADICAL UNSCHOOLING AS A LIFESTYLE
Talk with Michelle and Stacy about how to take unschooling to a whole new level! Incorporating unschooling principals into work, family life and living.
LUNCH CHAT WITH AMY SMITH
Bring your lunch and chat with Amy about the unschooling lifestyle.
FUNSHOP: TEEN CPR  AGES 10 & UP
Permian Basin CPR will be providing free CPR training at this event. This event is for those tween/teens looking to meet the High School requirement for CPR. To learn more about Permian Basin CPR visit their website here.
ROUND TABLE DISCUSSION WITH RACHEL MILLER: LIGHTS OUT! RADICAL UNSCHOOLING AND SLEEP
A discussion about sleep including common concerns and mutually respectful solutions.
MARKET DAYS AND SWAP MEET 
Are you crafty or do you have something to sell? Do you have a service you'd like to promote and sell? Do the kids have a talent or skill they'd like to monetize? Bring it to Market Days and make a little money.
Or, are you cleaning out closets and want to swap some of your old stuff for something else? (Nerf guns, old books, video games, etc) Bring your items to our Swap Meet and see what treasures you can trade!
Please make a sign for your table indicating whether you are selling or swapping so that people will know whether you are bartering or selling.
HAPPY HOUR
Bring your own drinks and/or snacks and join us in the Event Center for our Happy Hour Social.
TEEN POOL MEETUP
Teens meet up at the pool for Freestyle play and socializing. (This is an unsupervised event)
MOVIE
Bring your popcorn or snacks and enjoy watching Summer Hill – A movie about the very first Free School in the world. Appropriate for all ages.
Discussion and socializing to follow the movie.
MONDAY ACTIVITY
Today we check out until next year – but don't forget to join us in our  Closing Circle to say your goodbyes to friends – old and new.